8
Ergebnis (Sort by descending Date)
8
Result(s) (Sort by descending Date)
Large-scale test facility at TU Freiberg supplies 15,000 litres of synthetic fuel
The DeCarTrans project is further developing a process for producing synthetic fuel from methanol for the transport sector.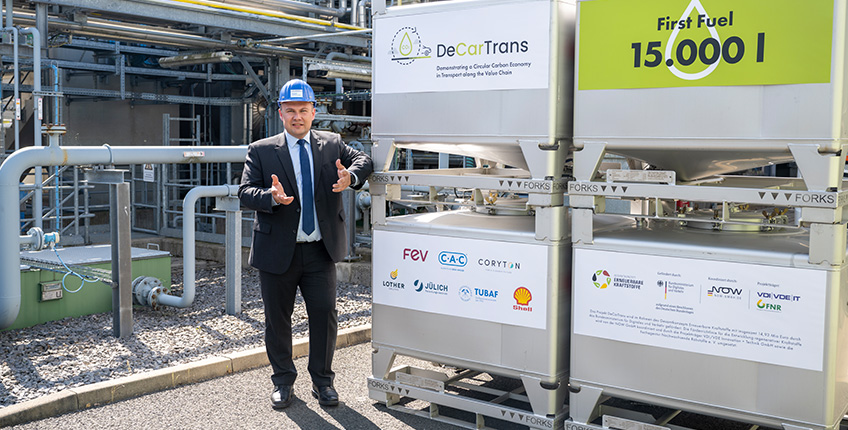 BMDV funding guideline on developing renewable fuels garners huge interest – 100 million euros in funding already approved
Today at the 'Renewable fuels' conference of the Federal Ministry for Digital and Transport (BMDV), Oliver Luksic, Parliamentary State Secretary in the BMDV, presented seven funding subsidy notices as part of the 'Development of renewable fuels funding guideline'.
First Renewable Energies conference from the Federal Ministry for Digital and Transport opens in Berlin
The Federal Ministry for Digital and Transport (BMDV) today brought together experts from industry, science and trade associations for the first Renewable Fuels conference.
Funding to reduce shipping emissions: apply now!
With the newly issued BordstromTech-II guideline for the reduction of shipping emissions in sea and inland waterway ports, the Federal Ministry for Digital and Transport (BMDV) is extending supporting measures aimed at the market activation of alternative technologies for environmentally-friendly onboard electricity and mobile shoreside power supply of seagoing and inland waterway vessels.
BMDV initiates funding call for the development of electricity-based fuels and advanced biofuels for maritime applications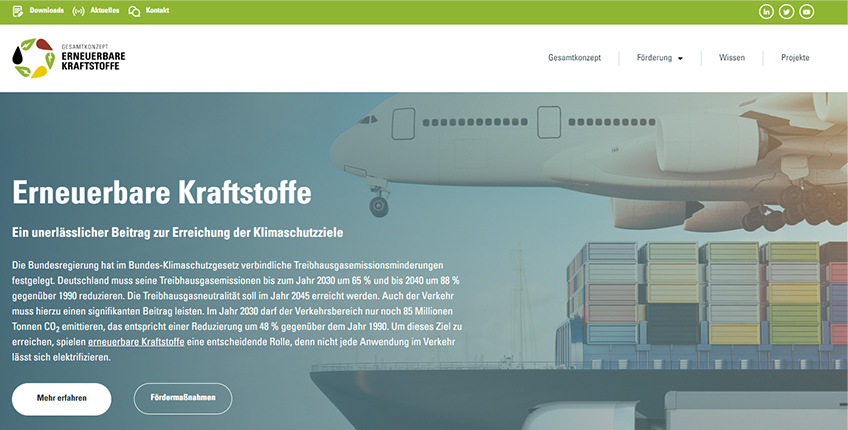 Wissing: Market ramp-up of climate-friendly commercial vehicles has begun
For the first time, the Federal Ministry for Digital and Transport (BMDV) is bringing together policymakers, manufacturers and infrastructure operators together for a 'Specialist Conference on Climate-Friendly Commercial Vehicles'. On 17 November 2022 in Berlin, around 700 people, of whom around 200 attended in person, discussed perspectives, framework conditions and measures for climate-friendly commercial vehicles in Germany and Europe.
Overview and classification of biofuels: New factsheet from NOW GmbH
What are biofuels and what role do they play in reducing emissions from transport? NOW's biofuels factsheet provides a concentrated overview of figures and definitions, and provides an introduction to the most important aspects of the topic of biofuels.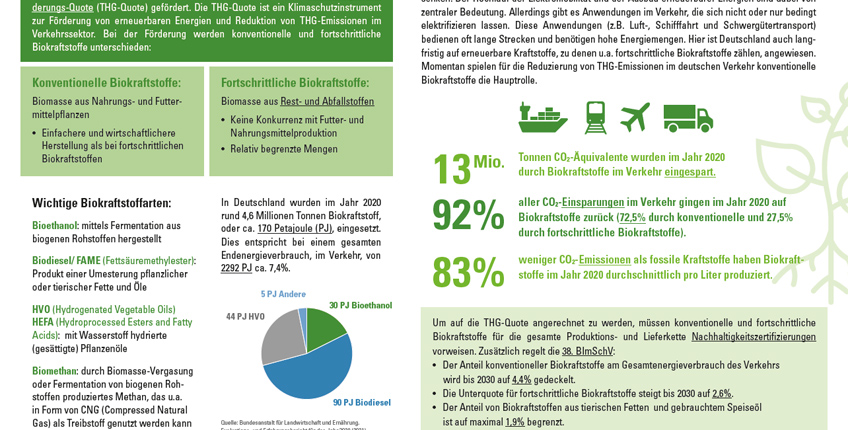 BMDV publishes call for funding for the production of renewable CNG and LNG fuels via biological methanisation
Submission of project outlines until 31 October 2022 | Online seminar to provide assistance