251
Ergebnis (Sort by descending Date)
251
Result(s) (Sort by descending Date)
Wissing presents funding notifications for 'E-bus 2030+' research project for climate-friendly buses
The Federal Minister for Digital and Transport, Dr. Volker Wissing, today presented funding notifications amounting to approximately 1.38 million euros for the research initiative: 'E-bus 2030+'. The Berlin's Berliner Verkehrsbetriebe (BVG) transport authority, the Reiner Lemoine Institute (RLI) and the Technical University of Berlin (TUB) are involved in the project.
Better recharging reliability: Consortium presents research results of the 'Charging effect chain' project ('Wirkkette Laden')
What gets in the way of smooth and reliable charging of e-vehicles? In a project funded by the Federal Ministry for Digital and Transport (BMDV), stakeholders from industry and science diagnosed sources of errors and on that basis, drafted a catalogue of measures for a more user-friendly public charging infrastructure.
DEHOGA survey on charging infrastructure in the hospitality industry: half of businesses surveyed either plan to or have already installed charging infrastructure
The German Hotel and Restaurant Association (DEHOGA Bundesverband) surveyed 1,500 members on the subject: 'Charging infrastructure in hospitality'*. The National Centre for Charging Infrastructure supported DEHOGA in drafting the questions. The result: Half of the business surveyed have already installed charging infrastructure or are planning to do so.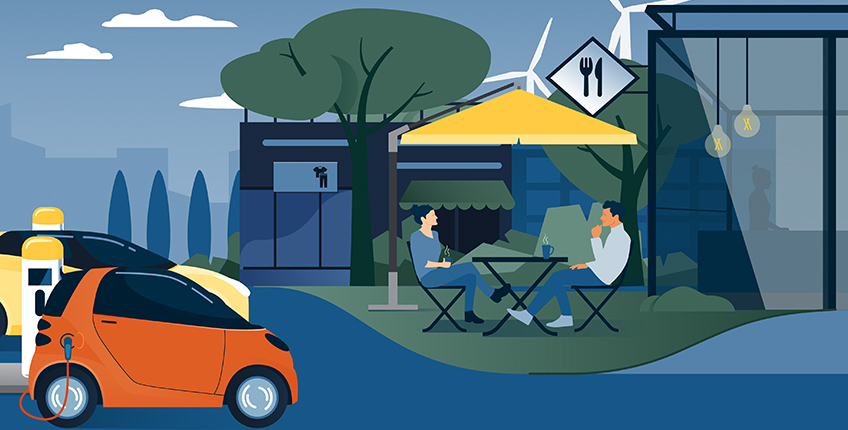 Funding to reduce shipping emissions: apply now!
With the newly issued BordstromTech-II guideline for the reduction of shipping emissions in sea and inland waterway ports, the Federal Ministry for Digital and Transport (BMDV) is extending supporting measures aimed at the market activation of alternative technologies for environmentally-friendly onboard electricity and mobile shoreside power supply of seagoing and inland waterway vessels.
New procurement calls for electric vehicles in spring 2023
The Federal Ministry of Digital and Transport (BMDV) will continue to support municipalities and companies in the procurement of electric vehicles and the associated charging infrastructure in the new year. Put a note in your diary now!
BMDV supports concepts for switching to clean buses
Funding call for feasibility studies launched
Federal government provides funding support towards 22 more electric buses for Freiburger Verkehrs AG
By the middle of 2025, more than two thirds of the VAG public transport authority's bus fleet are to have been converted to emission-free drive technology – the federal government is now funding the procurement of 22 additional electric buses with 7.2 million euros.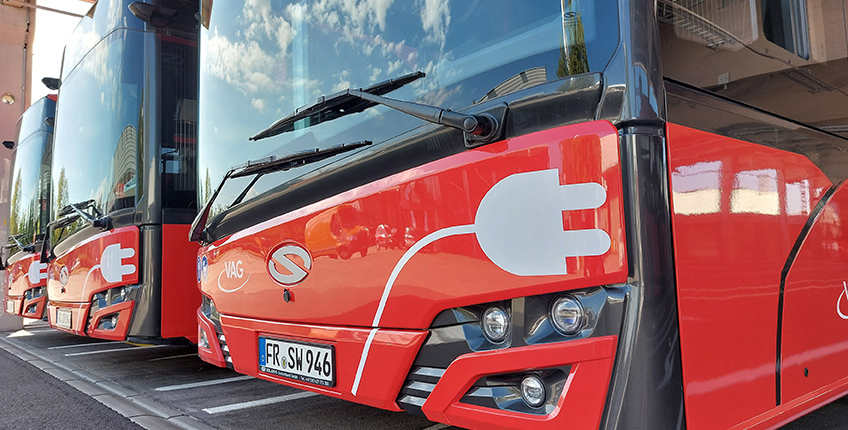 Funding support for climate-friendly commercial vehicles to be extended until 2026
Good news from Europe: The "KsNI" guideline for funding commercial vehicles with alternative, climate-protecting drives and the associated refuelling and charging infrastructure (KsNI – "Richtlinie über die Förderung von Nutzfahrzeugen mit alternativen, klimaschonenden Antrieben und dazugehörigen Tank- und Ladeinfrastruktur") of the Federal Ministry of Digital and Transport (BMDV) can be continued on a larger scale following renewed approval by the European Commission.
Wissing: Market ramp-up of climate-friendly commercial vehicles has begun
For the first time, the Federal Ministry for Digital and Transport (BMDV) is bringing together policymakers, manufacturers and infrastructure operators together for a 'Specialist Conference on Climate-Friendly Commercial Vehicles'. On 17 November 2022 in Berlin, around 700 people, of whom around 200 attended in person, discussed perspectives, framework conditions and measures for climate-friendly commercial vehicles in Germany and Europe.