52
Ergebnis (Sort by descending Date)
52
Result(s) (Sort by descending Date)
Electric vehicles account for a quarter of new monthly registrations in April
In April 2022, 45,992 electric vehicles (24,287 of which were fully electric vehicles and 21,705 plug-in hybrids) were registered in Germany. That represents a quarter of the total new registrations in the month of April. The current total figure: 1.5 million e-vehicles, of which almost 800,000 are fully electric.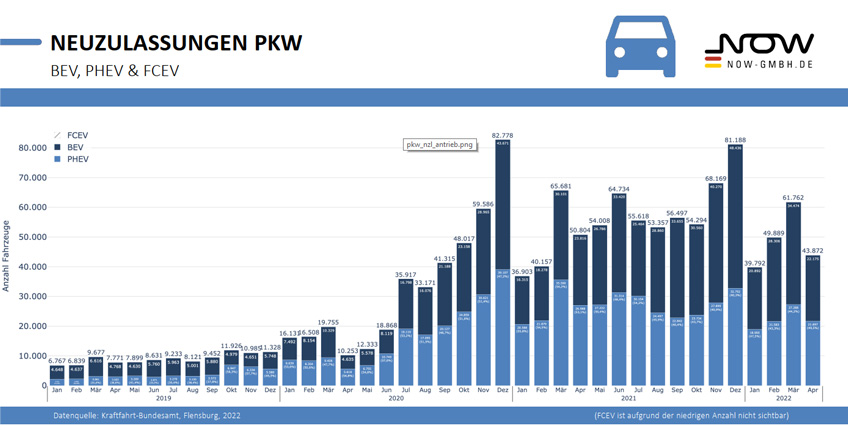 Green light for innovation cluster: Hydrogen to power heavy-duty port technology
Hamburger Hafen und Logistik AG (HHLA) together with its partners want to advance the decarbonization of handling and transport processes. Clean Port & Logistics (CPL), an innovation cluster for testing hydrogen-powered equipment in port logistics, will help with this objective.
Launch of Germany's first commercial vehicle rental company with hydrogen trucks
Hylane GmbH (hylane), a provider of climate-friendly mobility, officially launched today as a subsidiary of Cologne-based DEVK Versicherung. Hylane places environmental protection at the heart of its exclusively climate-friendly vehicle rental service. The company offers hydrogen trucks with different superstructures and installations. Vans and buses will follow at a later date. NOW provided advice and support to the start-up during its foundation phase.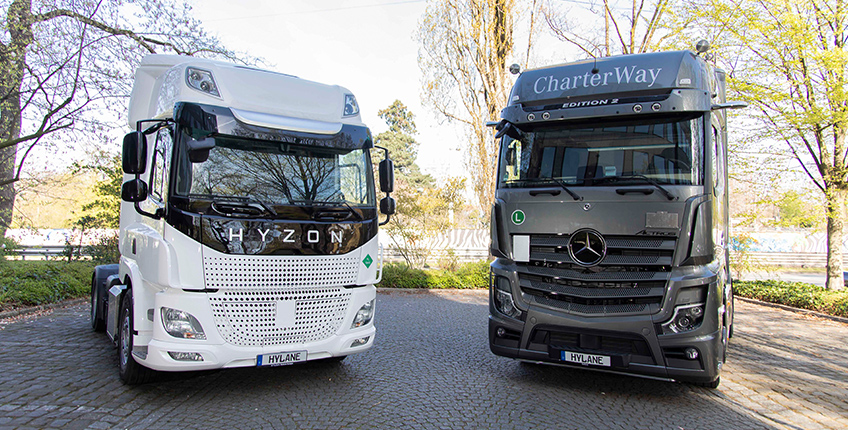 First fully-electric trucks from Mercedes Benz are deployed at logistics companies
Mercedes Benz Bank AG is one of the first recipients of subsidies as part of the funding guideline of the Federal Ministry for Digital and Transport for alternative, climate-protecting drives and associated refuelling and charging infrastructure (KsNI) for light and heavy commercial vehicles.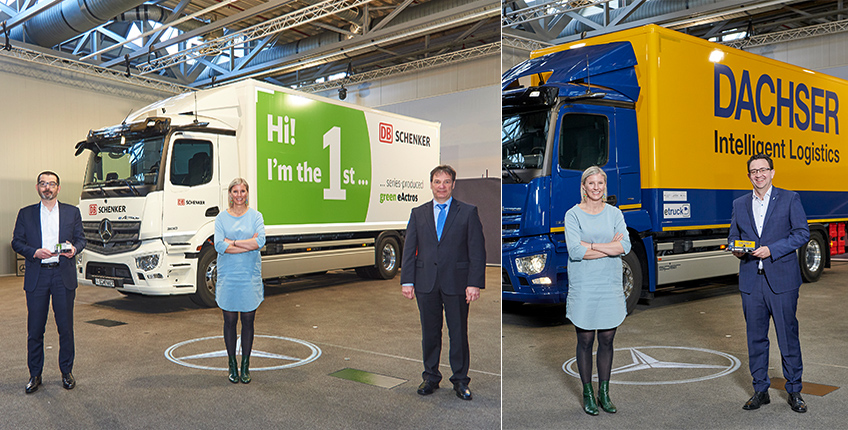 Hydrogen mobility in Emsland: HyExpert region presents concept
The district of Emsland is regarded throughout Germany as a pioneering region in terms of developing a climate-friendly hydrogen economy. The completion of the HyExpert concept now signifies another milestone.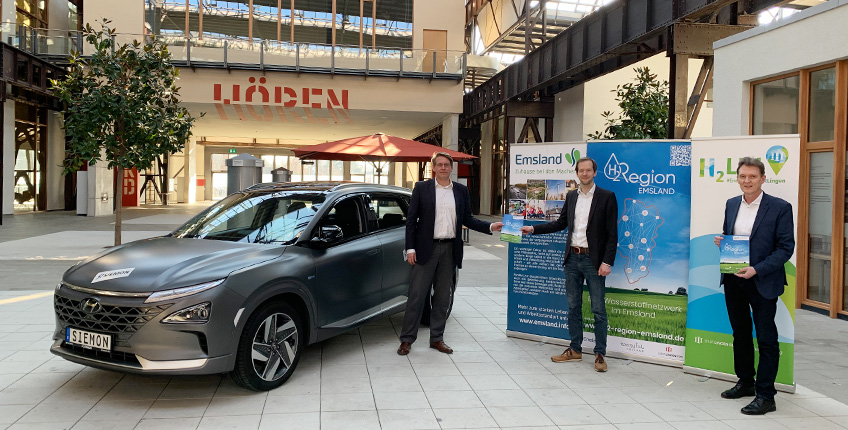 CryoTRUCK consortium commences with the development and testing of "CRYOGAS"
Hydrogen mobility start-up Cryomotive, commercial vehicle manufacturer MAN Truck & Bus, truck and bus retrofitter Clean Logistics, testing specialist IABG and the Technical University of Munich are jointly developing a pioneering CRYOGAS hydrogen gas tank with refuelling system for hydrogen trucks in long-distance transport.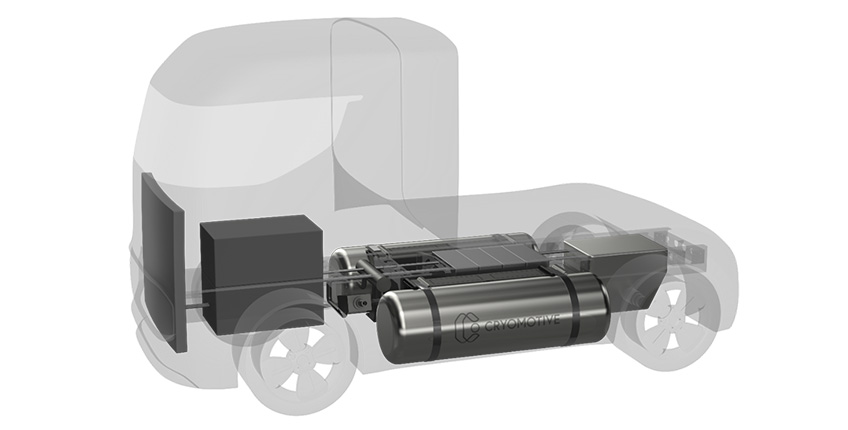 Climate-friendly commercial vehicles: NOW identifies action required for building up charging infrastructure
With the conclusion of the task force: 'Backcasting – charging infrastructure for heavy-duty commercial vehicles', the BMDV, NOW and the National Centre for Charging Infrastructure have established a 'to-do' inventory for the development of public charging infrastructure for heavy-duty commercial vehicles used in long-distance transport.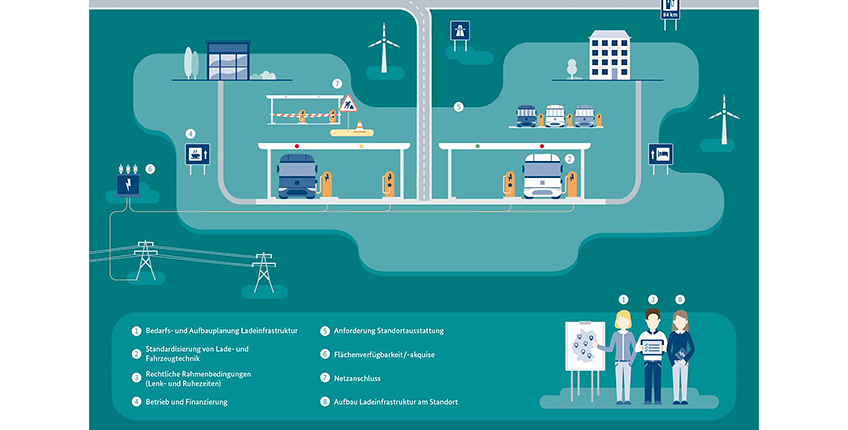 Number of electric cars doubles: KBA report published in December 2021
In 2021, the number of electric cars in Germany more than doubled: there are currently around 1.2 million e-cars registered in Germany. 355,961 battery-electric and 325,449 plug-in electric cars were newly registered in 2021 - more e-cars than ever before. And this is in a year in which a quarter fewer cars were registered overall than in the previous year.
Catalogue of measures
The NOW Advisory Board Chairman outlines the hydrogen and fuel cell industry's wishes for the further development of the National Innovation Programme Hydrogen and Fuel Cell Technology (NIP) to the National Hydrogen Council.