113
Ergebnis (Sort by descending Date)
113
Result(s) (Sort by descending Date)
EM funding balance 2021: BMDV
invests in over 1,000 e-vehicles and around 250 charging points
The Federal Ministry for Digital and Transport (BMDV – Bundesministerium für Digitales und Verkehr) is investing another 20 million euros for the procurement of vehicles and development of charging infrastructure under the Electric Mobility Funding Guideline. A total of 86 projects will be approved, 36 of which will be proposed by municipalities and 50 by companies. The BMDV is supporting the procurement of more than 1,000 vehicles and almost 250 charging points under the Electric Mobility Funding Guideline. The guideline is coordinated by NOW GmbH and implemented by Project Management Jülich (PtJ).
Local Electric Mobility: Information service programme of the Federal Ministry of Transport goes on winter break
Despite the difficult circumstances brought about by the pandemic, the Electric Mobility Roadshow of the Federal Ministry of Digital Affairs and Transport (BMDV) made stops in thirteen cities and municipalities throughout Germany in 2021. Information on climate-friendly electric mobility suitable for everyday use was shared by the information stand team on location at all the stops. Since 2014, the Electric Mobility Roadshow has visited more than 130 municipalities.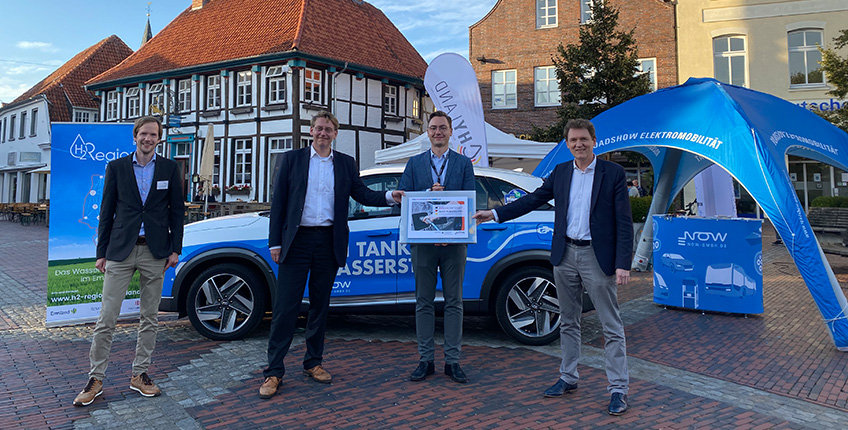 Share of e-cars continues to rise – German Federal Motor Transport Authority (KBA) report published in November
The latest figures from the German Federal Motor Transport Authority (KBA – Kraftfahrt-Bundesamt) continue to show that the number of newly registered passenger cars in Germany continues to fall. Only in the case of electric cars does the trend keep pointing upwards. In November, 40,270 new battery-electric cars were registered, 39 percent more than in November 2020. In addition, 27,899 plug-in hybrids were also newly registered.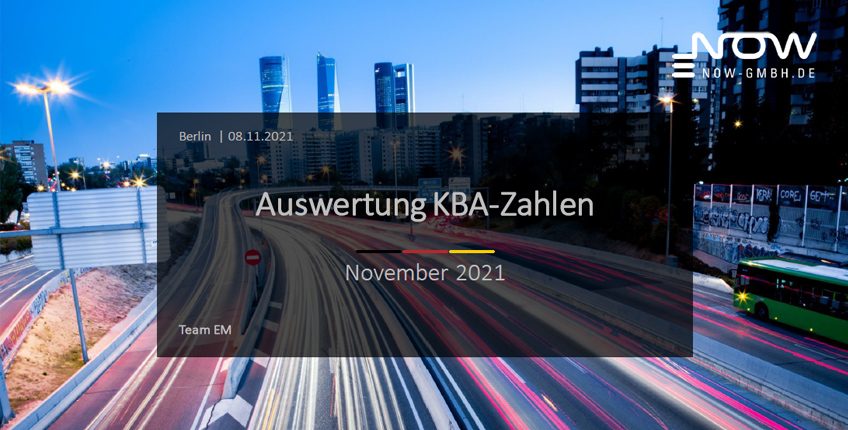 Climate-friendly shovelling and levelling – e-excavator starts operation
The Dachstiftung Diakonie in Gifhorn is on its way to more sustainability. What began as waste separation and using environmentally-friendly paper is now trumped by the latest acquisition for its gardening and landscaping fleet. The e-excavator will be used to level pathways and dig up trees.
Betriebshof Grün team chooses electric ride-on lawnmower
The 'new member' of the city depot fleet is funded by the Federal Ministry of Transport and Digital Infrastructure (BMVI) under the electric mobility funding measure.
KVB, RheinEnergie and Ford put innovative charging infrastructure into operation with the MuLI project
Cologne's public transport company KVB (Kölner Verkehrs-Betriebe), RheinEnergie and Ford have officially put the innovative charging infrastructure of the MuLI project into operation in Bocklemünd. The MuLI project – Multimodal Charging Module Integration (Multimodale Lademodul-Integration) – harnesses, for example, the braking energy of the city's rail system to charge the KVB's battery-powered buses and, at the same time, vehicles with electric drives.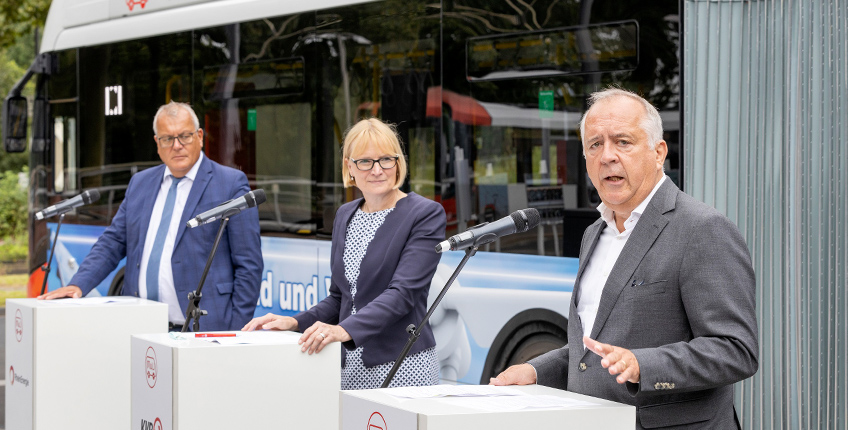 Düren city administration embraces electric mobility
The city administration of Düren will rely on emission-free vehicles in the future and has converted its vehicle fleet to electric mobility. A total of 22 "purely" electric vehicles from different manufacturers were put out to tender and purchased throughout Europe.
One million electric vehicles on German roads for the first time – more than half are purely battery-powered
According to the German Federal Motor Transport Authority (Kraftfahrtbundesamt), approximately 57,000 electric vehicles were newly registered in Germany in July. With these new registrations, German industry and the federal government have reached their mutual goal of bringing one million electrically powered vehicles onto Germany's roads [1]. More than half of these are purely electric vehicles, the remainder are plug-in hybrids and fuel cell vehicles. Germany is thus living up to its claim to become the leading provider and lead market for this key mobility technology.
New funding call for research and development projects soon to be published
The Federal Ministry of Transport and Digital Infrastructure is again supporting research and development projects that support the market ramp-up of electric vehicles and innovative concepts for climate-friendly mobility.