43
Ergebnis (Sort by descending Date)
43
Result(s) (Sort by descending Date)
More climate-friendly buses in public transport
Consortium presents the results of accompanying research on funding innovative drives in road public transport at the Federal Ministry of Transport and Digital Infrastructure (BMVI).
EU Commission approves new funding guideline for clean buses in public transport
Green light from Brussels: Environmentally-friendly buses are now ready to take off. The European Commission has approved funding alternative drive options in passenger transport under state aid law. The technology-neutral 'Guideline on the funding of alternative bus drives in passenger transport' is therefore now available.
KVB, RheinEnergie and Ford put innovative charging infrastructure into operation with the MuLI project
Cologne's public transport company KVB (Kölner Verkehrs-Betriebe), RheinEnergie and Ford have officially put the innovative charging infrastructure of the MuLI project into operation in Bocklemünd. The MuLI project – Multimodal Charging Module Integration (Multimodale Lademodul-Integration) – harnesses, for example, the braking energy of the city's rail system to charge the KVB's battery-powered buses and, at the same time, vehicles with electric drives.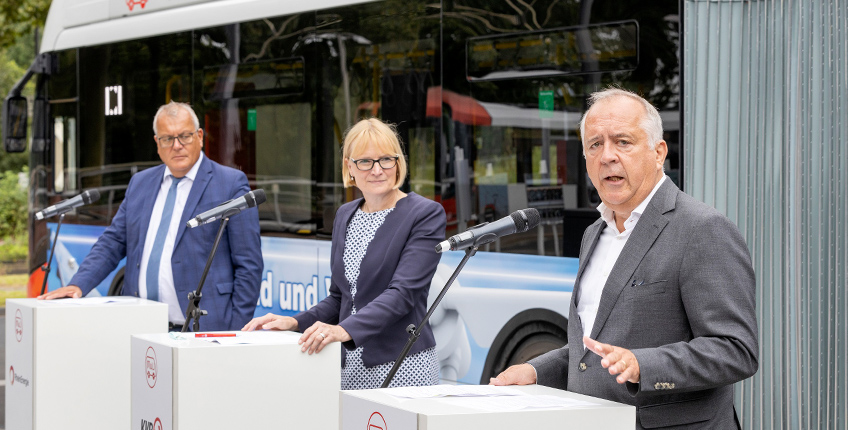 One million electric vehicles on German roads for the first time – more than half are purely battery-powered
According to the German Federal Motor Transport Authority (Kraftfahrtbundesamt), approximately 57,000 electric vehicles were newly registered in Germany in July. With these new registrations, German industry and the federal government have reached their mutual goal of bringing one million electrically powered vehicles onto Germany's roads [1]. More than half of these are purely electric vehicles, the remainder are plug-in hybrids and fuel cell vehicles. Germany is thus living up to its claim to become the leading provider and lead market for this key mobility technology.
New: Clean mobility in Germany – key figures and projects in July 2021
Figures, data and facts on clean mobility with alternative drives and fuels in Germany: that is what the Infoservice of NOW GmbH offers, concisely and clearly, updated every six months.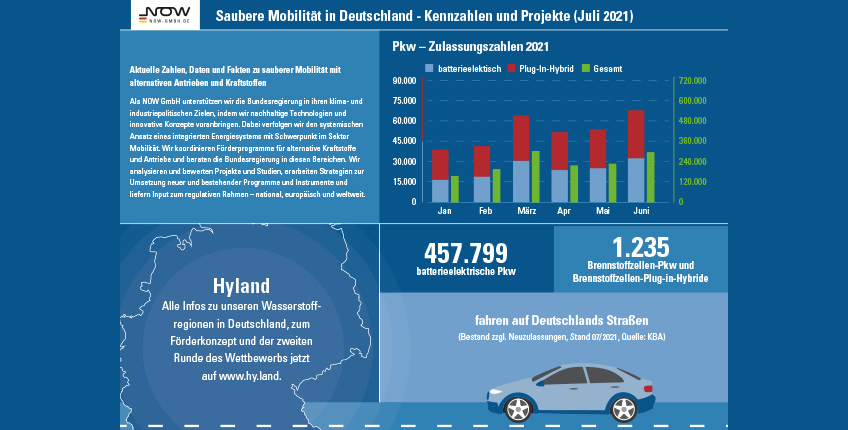 At a glance: Funding opportunities at NOW GmbH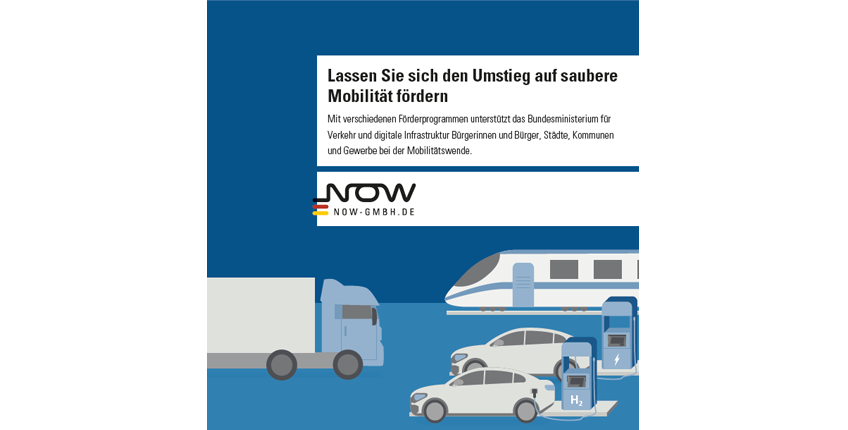 BMVI funds municipal, and now for the first time commercial, electric mobility concepts
The BMVI is continuing to support the development of electric vehicle fleets and their charging infrastructure. As part of this, conceptual studies are playing their role in the market ramp-up of electric mobility. From now on municipalities, municipal companies and now for the first time, commercial companies can apply for funding of application-oriented electric mobility concepts.
New publication from NOW GmbH: Guide for buses with alternative drives
The future of public transport will be characterised by emission-free drives, and this is also true for the approx. 35,600 public buses operated by member companies of the Association of German Transport Companies.