55
Ergebnis (Sort by descending Date)
55
Result(s) (Sort by descending Date)
Electric vehicles account for a quarter of new monthly registrations in April
In April 2022, 45,992 electric vehicles (24,287 of which were fully electric vehicles and 21,705 plug-in hybrids) were registered in Germany. That represents a quarter of the total new registrations in the month of April. The current total figure: 1.5 million e-vehicles, of which almost 800,000 are fully electric.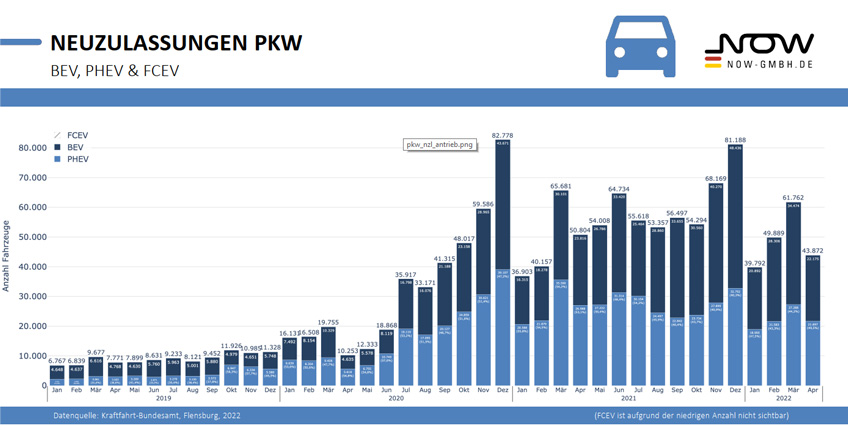 Innovative drives for buses in public transport: Final report compiles knowledge from three years of accompanying research
How practical, energy-efficient, ecological and economical are buses with innovative drives in everyday application? The programmatic support research that accompanies the federal government's bus funding programmes has compiled and evaluated the data and experiences of the transport companies that have been subsidised and summarized them in the final report.
Funding support for 108 hydrogen-powered fuel cell hybrid buses in Cologne-Bonn
Thanks to funding support from the Federal Ministry for Digital and Transport (BMDV), Cologne's Regionalverkehr Köln GmbH (RVK)public transport authority will receive 108 fuel cell hybrid buses that will be added to the company's fleet by 2025. With a total of 160 hydrogen-powered buses, the fleet, which is already the largest in Europe, will be further expanded.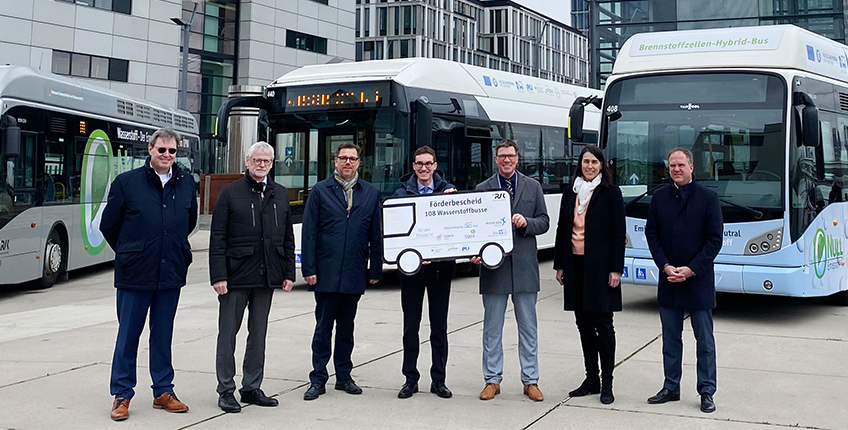 Transport Ministry provides support for 1,700 clean buses
Federal Transport Minister Dr. Volker Wissing hands over funding decisions totalling approximately 600 million euros for the procurement of climate-friendly buses.
Munich Airport receives funding for the purchase of environmentally friendly electric buses
Munich Airport has received funding support totalling almost 24 million euros from Volker Wissing, Federal Minister for Digital and Transport. These funds will go towards the purchase of up to 72 electrically powered passenger buses, including the necessary associated charging infrastructure.
Wissing: Another 472 Hamburg city buses will be electric in the near future
The Federal Minister for Digital and Transport, Dr Volker Wissing, today handed over funding notifications amounting to around 160 million euros for the electrification of public transport in Hamburg and the surrounding area.
Green hydrogen for Weimar local transport: State of Thuringia and BMDV support H2 production and vehicle fleet
Stadtwirtschaft Weimar GmbH, TEAG and Bauhaus-Universität are starting a project for hydrogen mobility in public transport. With funding of around 3 million euros, the Thuringia Energy Ministry is supporting the acquisition of public buses with hydrogen drives in Weimar. The subsidy notice was presented today by Thuringia's Energy Minister Anja Siegesmund in Weimar.
Number of electric cars doubles: KBA report published in December 2021
In 2021, the number of electric cars in Germany more than doubled: there are currently around 1.2 million e-cars registered in Germany. 355,961 battery-electric and 325,449 plug-in electric cars were newly registered in 2021 - more e-cars than ever before. And this is in a year in which a quarter fewer cars were registered overall than in the previous year.