60
Ergebnis (Sort by descending Date)
60
Result(s) (Sort by descending Date)
44 new electric buses for Tübingen
Accelerated fleet conversion by the end of 2025 in sight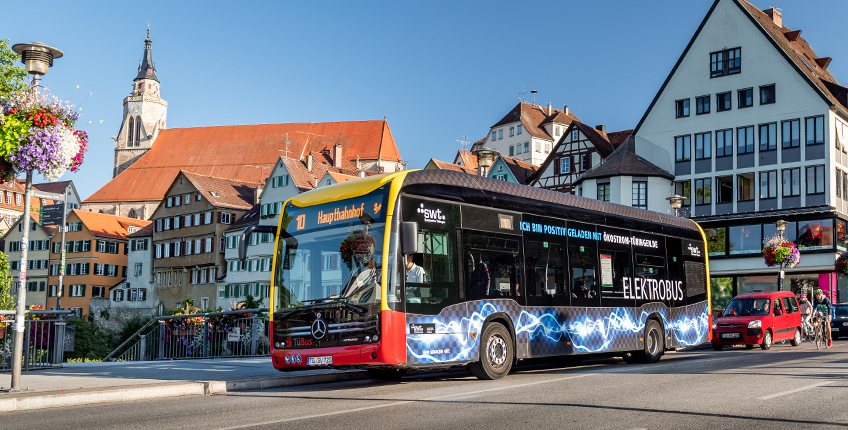 Hydrogen buses and filling stations for the HyBayern HyPerformer Region
The districts of the HyBayern HyPerformer region of Munich, Ebersberg and Landshut, together with other partners from the private sector, intend to establish a green hydrogen cycle in the region by 2025 and invest in fuel cell buses for public transport. On Tuesday, 4 October 2022, the Federal Ministry of Digital and Transport (BMDV – Bundesministerium für Digitales und Verkehr) officially handed over the funding notifications for eleven new hydrogen buses and a hydrogen refuelling station at the district administration office in Munich.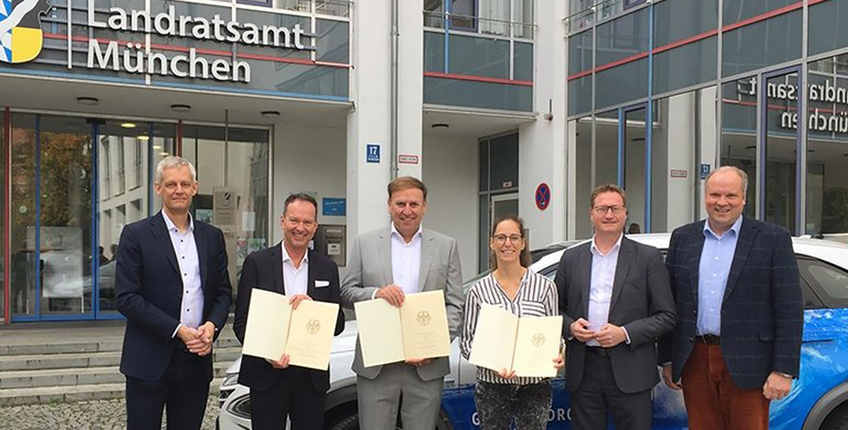 BMDV puts around 3,000 clean buses onto the roads
The Federal Ministry for Digital and Transport is supporting 41 additional transport companies from all over Germany to procure buses with alternative drive systems. Parliamentary State Secretary Daniela Kluckert presented the funding notifications to company representatives today in Berlin. They represent the more than 50 transport companies thus far that are being supported in the framework of the first funding call of the 'Guideline on funding alternative bus drives for passenger transport' ("Richtlinie zur Förderung alternativer Antriebe von Bussen im Personenverkehr").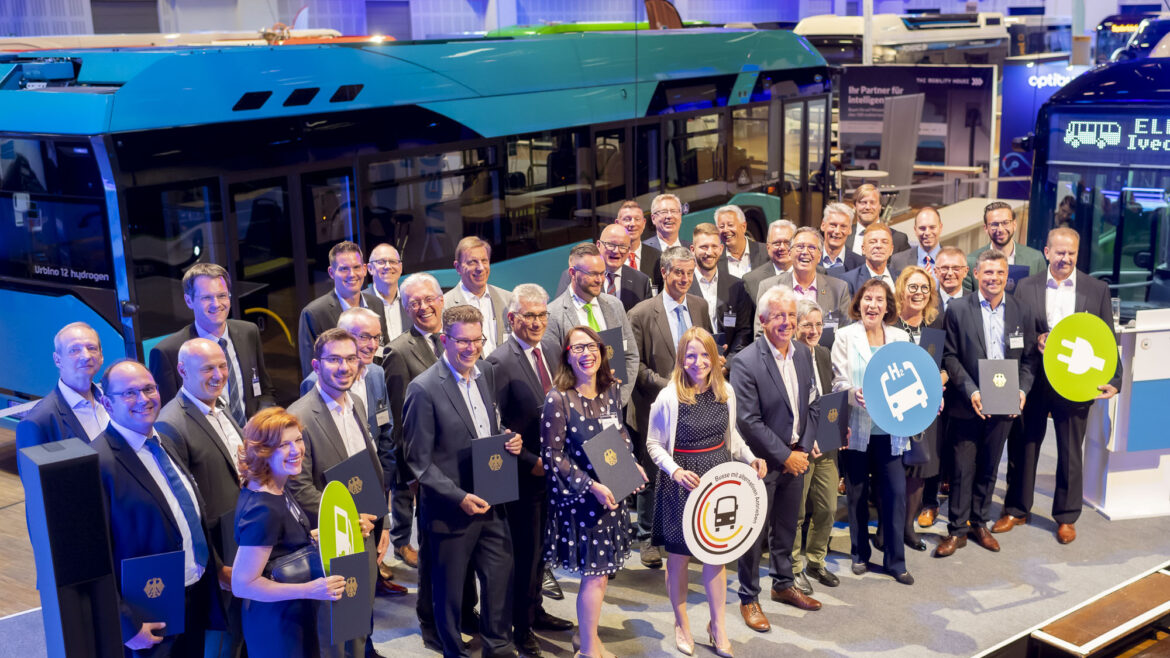 HyPerformer H2Rivers – Groundbreaking Ceremony for the "H2 Hub" Hydrogen Distribution Centre
The hydrogen distribution centre on Friesenheim Island in Mannheim will in future supply buses and other vehicles in the Rhine-Neckar metropolitan region with hydrogen. The groundbreaking ceremony for the "H2 Hub" took place in the presence of Parliamentary State Secretary Theurer during "Hydrogen Week South".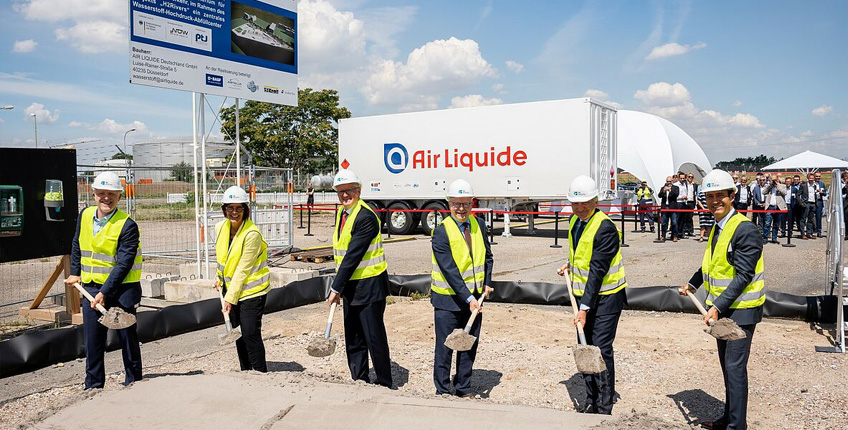 State Secretary Theurer hands over funding notifications for hydrogen mobility project hy.waiblingen
Funding notifications for sub-projects of the HyPerformer H2Rivers: The first Day of Hydrogen (Tag des Wasserstoffs) took place on 1 July in Waiblingen, near Stuttgart. Michael Theurer, State Secretary of the Federal Ministry of Digital and Transport (Bundesministerium für Digitales und Verkehr), handed over a notification of funding of just under 5.3 million euros for the project. Guests were able to learn more about the planned regional hydrogen infrastructure and could also inspect fuel cell vehicles at various information booths.
Electric vehicles account for a quarter of new monthly registrations in April
In April 2022, 45,992 electric vehicles (24,287 of which were fully electric vehicles and 21,705 plug-in hybrids) were registered in Germany. That represents a quarter of the total new registrations in the month of April. The current total figure: 1.5 million e-vehicles, of which almost 800,000 are fully electric.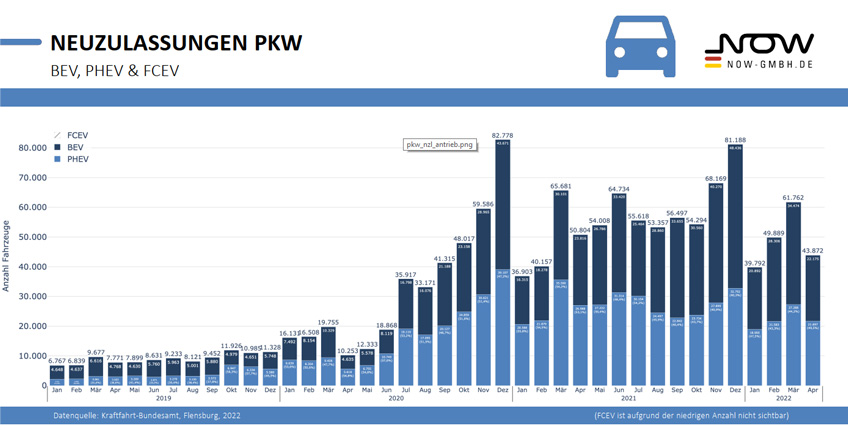 Innovative drives for buses in public transport: Final report compiles knowledge from three years of accompanying research
How practical, energy-efficient, ecological and economical are buses with innovative drives in everyday application? The programmatic support research that accompanies the federal government's bus funding programmes has compiled and evaluated the data and experiences of the transport companies that have been subsidised and summarized them in the final report.
Funding support for 108 hydrogen-powered fuel cell hybrid buses in Cologne-Bonn
Thanks to funding support from the Federal Ministry for Digital and Transport (BMDV), Cologne's Regionalverkehr Köln GmbH (RVK)public transport authority will receive 108 fuel cell hybrid buses that will be added to the company's fleet by 2025. With a total of 160 hydrogen-powered buses, the fleet, which is already the largest in Europe, will be further expanded.