64
Ergebnis (Sort by descending Date)
64
Result(s) (Sort by descending Date)
Stadtwerke Düsseldorf public utilities authority and Rheinbahn public transport operator invest in hydrogen mobility
The city of Düsseldorf has set itself the goal of becoming climate-neutral by 2035. To achieve this, the public utilities authority Stadtwerke Düsseldorf and public transport operator Rheinbahn are investing in hydrogen technology. In combination with battery-electric mobility, this will make an important contribution towards achieving the city's climate protection goals. Lord Mayor Dr. Stephan Keller is pleased that the city's public utility companies are jointly gaining momentum in this area. They will be cooperating with the seasoned hydrogen refuelling station operator H2 MOBILITY Deutschland.
Wissing presents funding notifications for 'E-bus 2030+' research project for climate-friendly buses
The Federal Minister for Digital and Transport, Dr. Volker Wissing, today presented funding notifications amounting to approximately 1.38 million euros for the research initiative: 'E-bus 2030+'. The Berlin's Berliner Verkehrsbetriebe (BVG) transport authority, the Reiner Lemoine Institute (RLI) and the Technical University of Berlin (TUB) are involved in the project.
BMDV supports concepts for switching to clean buses
Funding call for feasibility studies launched
Federal government provides funding support towards 22 more electric buses for Freiburger Verkehrs AG
By the middle of 2025, more than two thirds of the VAG public transport authority's bus fleet are to have been converted to emission-free drive technology – the federal government is now funding the procurement of 22 additional electric buses with 7.2 million euros.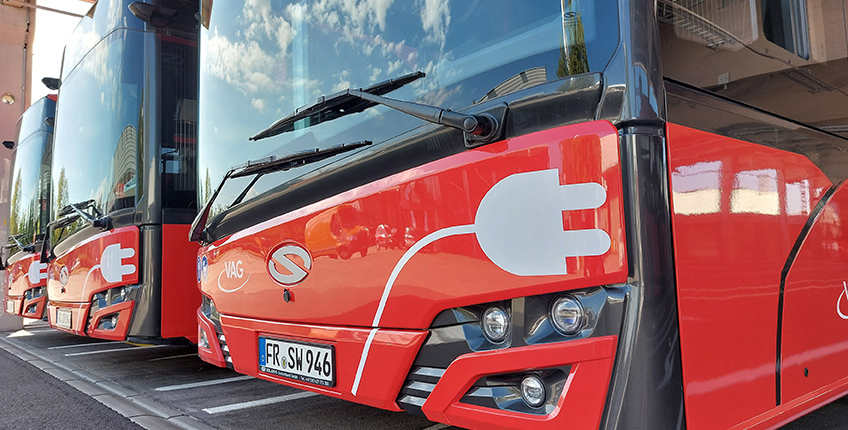 44 new electric buses for Tübingen
Accelerated fleet conversion by the end of 2025 in sight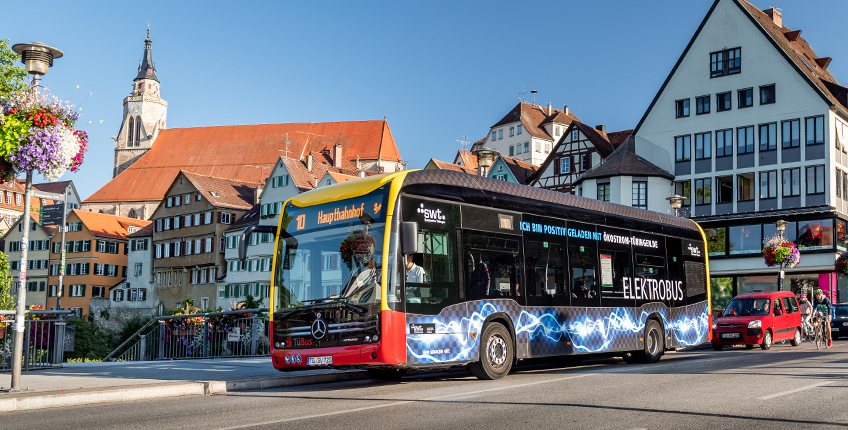 Hydrogen buses and filling stations for the HyBayern HyPerformer Region
The districts of the HyBayern HyPerformer region of Munich, Ebersberg and Landshut, together with other partners from the private sector, intend to establish a green hydrogen cycle in the region by 2025 and invest in fuel cell buses for public transport. On Tuesday, 4 October 2022, the Federal Ministry of Digital and Transport (BMDV – Bundesministerium für Digitales und Verkehr) officially handed over the funding notifications for eleven new hydrogen buses and a hydrogen refuelling station at the district administration office in Munich.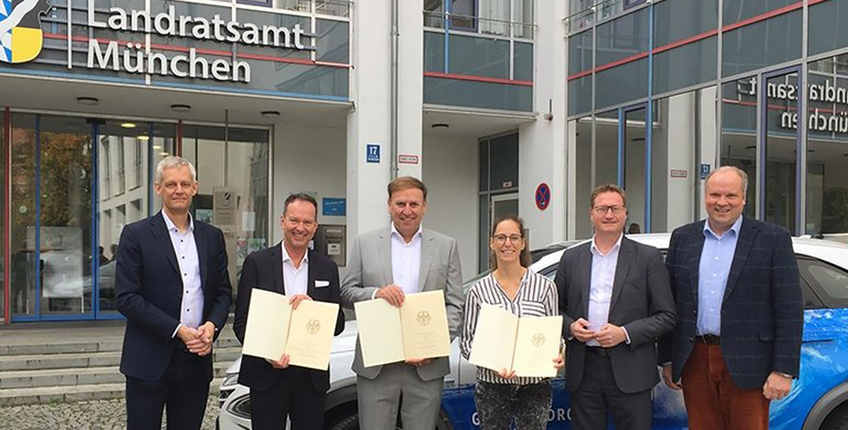 BMDV puts around 3,000 clean buses onto the roads
The Federal Ministry for Digital and Transport is supporting 41 additional transport companies from all over Germany to procure buses with alternative drive systems. Parliamentary State Secretary Daniela Kluckert presented the funding notifications to company representatives today in Berlin. They represent the more than 50 transport companies thus far that are being supported in the framework of the first funding call of the 'Guideline on funding alternative bus drives for passenger transport' ("Richtlinie zur Förderung alternativer Antriebe von Bussen im Personenverkehr").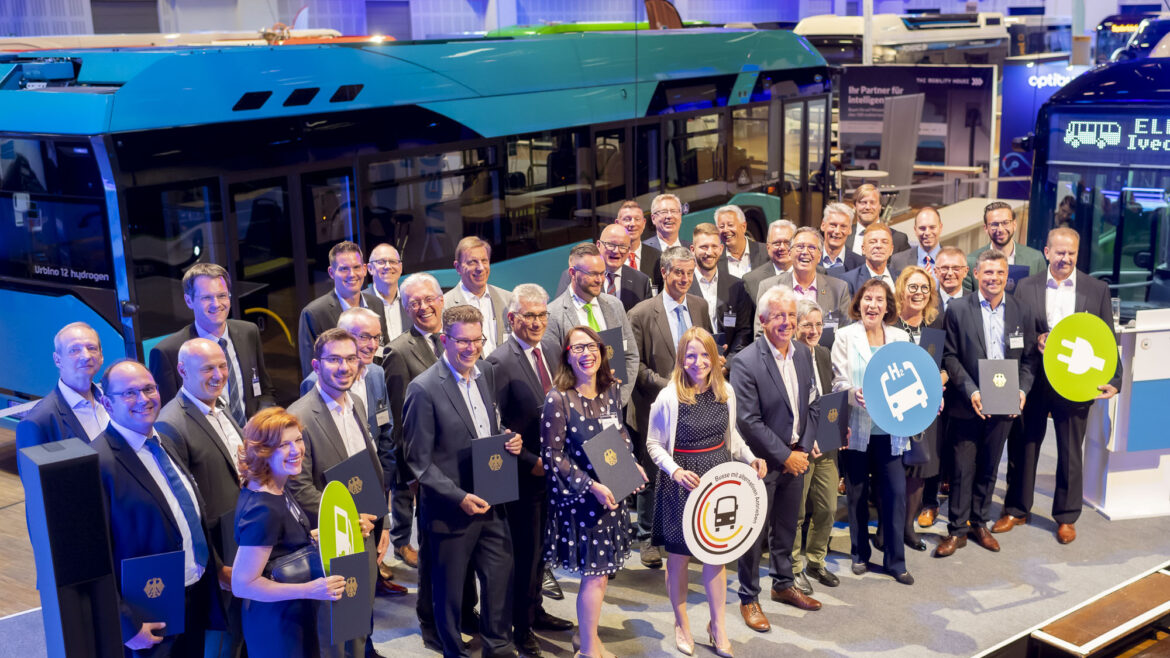 HyPerformer H2Rivers – Groundbreaking Ceremony for the "H2 Hub" Hydrogen Distribution Centre
The hydrogen distribution centre on Friesenheim Island in Mannheim will in future supply buses and other vehicles in the Rhine-Neckar metropolitan region with hydrogen. The groundbreaking ceremony for the "H2 Hub" took place in the presence of Parliamentary State Secretary Theurer during "Hydrogen Week South".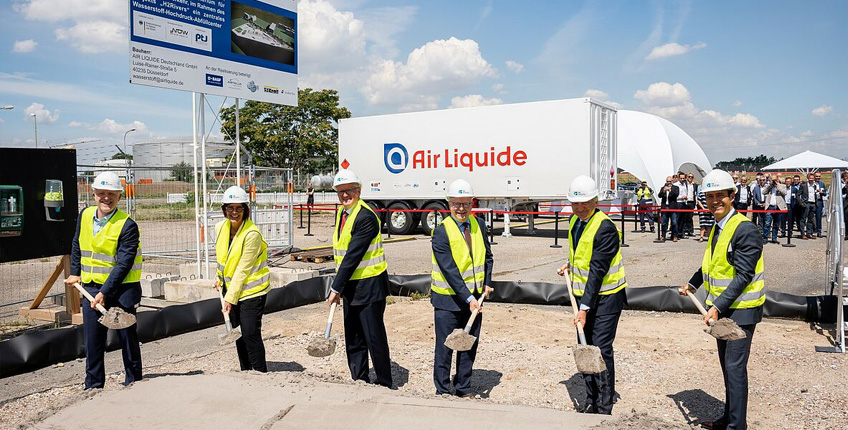 State Secretary Theurer hands over funding notifications for hydrogen mobility project hy.waiblingen
Funding notifications for sub-projects of the HyPerformer H2Rivers: The first Day of Hydrogen (Tag des Wasserstoffs) took place on 1 July in Waiblingen, near Stuttgart. Michael Theurer, State Secretary of the Federal Ministry of Digital and Transport (Bundesministerium für Digitales und Verkehr), handed over a notification of funding of just under 5.3 million euros for the project. Guests were able to learn more about the planned regional hydrogen infrastructure and could also inspect fuel cell vehicles at various information booths.