459
Ergebnis (Sort by descending Date)
459
Result(s) (Sort by descending Date)
HyAllgäu – Feasibility study on the hydrogen region presented
Hydrogen technology offers great potential for achieving the energy transition, a concept which has been examined in the HyAllgäu feasibility study in the Allgäu region. The results and possibilities have now been presented to the Federal Transport Ministry and State Minister Hubert Aiwanger.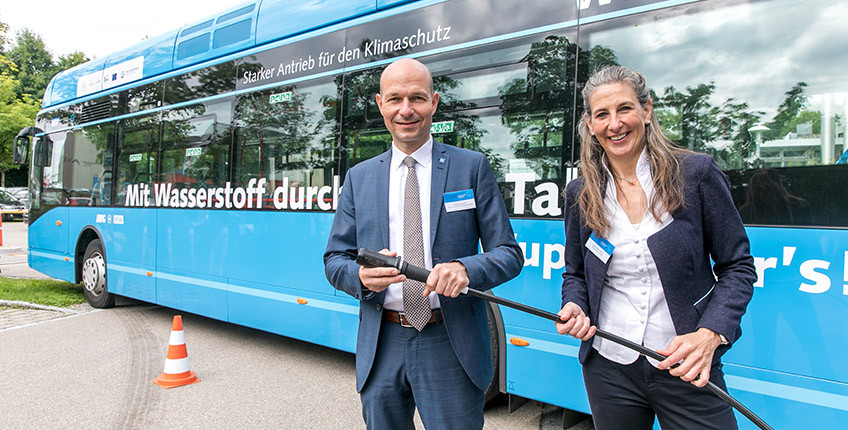 HYPOS project INES successfully completed
In the HYPOS project INES, project partners have been researching the safety of hydrogen applications for over three and a half years. At the end of the project, a hydrogen safety manual has been created, which is to serve as a guideline for future hydrogen projects. The manual contains safety and organizational information to enable the safe operation of facilities for hydrogen production, transport, storage and use.
Emsland: Waste management company to use hydrogen-operated bulky waste vehicle
Meppen, 23.07.2021. The Emsland waste management company is demonstrating what the future of mobility looks like. On 19 July, the district administrator of Emsland, Marc-André Burgdorf, presented a funding notification from the Federal Ministry of Transport and Digital Infrastructure (BMVI) in the amount of €796,000 at the central landfill site in Wesuwe. Provided under the National Innovation Programme for Hydrogen and Fuel Cell Technology (NIP II), a hydrogen-operated bulky waste vehicle will be funded which will collect waste in Lingen and Emsbüren from the autumn of 2022. More than 30 tonnes of CO2 can be saved per year by using the CO2-neutral bulky waste vehicle.
New: Clean mobility in Germany – key figures and projects in July 2021
Figures, data and facts on clean mobility with alternative drives and fuels in Germany: that is what the Infoservice of NOW GmbH offers, concisely and clearly, updated every six months.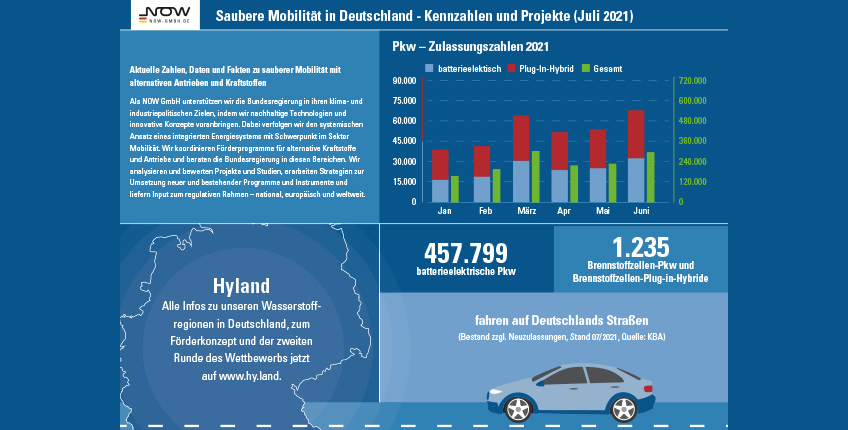 EU approves new funding guideline for commercial vehicles with alternative drives – funding calls soon to follow
Green light from Brussels: The funding guideline for commercial vehicles with alternative drives submitted by the Federal Transport Ministry can begin following approval by the European Commission. This means that for battery, fuel cell and (overhead) hybrid electric vehicles, the relevant refuelling and charging infrastructure as well as feasibility studies, an attractive funding programme is available.
Fast charging at the rest area of tomorrow: P-WC pilot facility 'Ostseeblick' officially opened
With the redesigned P-WC (parking and toilets) facility, 'Ostseeblick', on the A1 near Heilighafen, Autobahn GmbH is testing how unmanaged rest areas along the motorways can be designed in a more user-friendly, sustainable and service-oriented way nationwide, including fast-charging points for electric cars.
New funding call for research and development projects soon to be published
The Federal Ministry of Transport and Digital Infrastructure is again supporting research and development projects that support the market ramp-up of electric vehicles and innovative concepts for climate-friendly mobility.
Funding programme for private charging stations to be topped up by a further 300 million euros
The Federal Ministry of Transport and Digital Infrastructure's successful funding scheme to support the installation of private charging stations for electric cars at residential buildings will be expanded by a further 300 million euros and extended once more.
At a glance: NaKoMo workshop – "Pedestrian traffic finds its place"
Pedestrian traffic is free, environmentally-friendly and everywhere, which is why walking is receiving more and more attention in climate-friendly mobility. But what is missing? Space for all those who would like to walk.