27
Ergebnis (Sort by descending Date)
27
Result(s) (Sort by descending Date)
Voltap fast-charging stations for battery trains go into series production in Brandenburg
The world's first battery train fast-charging station, developed by Stadtwerken Tübingen (swt) and Furrer+Frey, is going into series production after a successful series of tests. The first four Voltap stations will be used by Niederbarnimer Eisenbahn.
BMDV funds alternative drives for rail transport
141 million euros allocated for alternatives drives for railways in 2022
First hydrogen-powered trains for the Berlin-Brandenburg metropolitan region
Siemens Mobility is building seven two-car trains of the fuel cell-powered Mireo Plus H type for the Niederbarnimer Eisenbahn (NEB). The switch from diesel to hydrogen on the Heidekrautbahn will reduce annual carbon emissions by around three million kilograms and save 1.1 million litres of diesel.
Premiere: Deutsche Bahn and Siemens Mobility present new hydrogen train and hydrogen storage trailer
The H2goesRail joint project is developing a completely new overall hydrogen system for rail transport – First rollout of the Mireo Plus H hydrogen train by Siemens Mobility and the hydrogen storage trailer for mobile hydrogen refuelling by Deutsche Bahn – Important step for phasing out diesel and switching to climate-friendly transport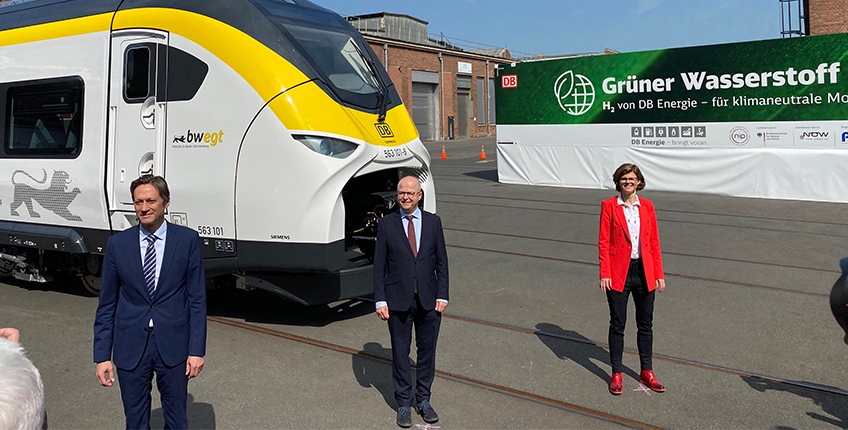 Shunting locomotives with alternative drives – study examines feasibility and potentials
Commissioned by NOW GmbH, the Institute of Vehicle Concepts (DLR) examined the feasibility and potentials of alternative drives in the application area of shunting locomotives in Germany.
Battery train from Alstom and Deutsche Bahn commences test operation in Bavaria
Fully charged towards zero-emission rail transport: The first fully approved battery train from Alstom with Deutsche Bahn (DB) as operator commences official test operations in Bavarian regional transport between Gunzenhausen and Pleinfeld.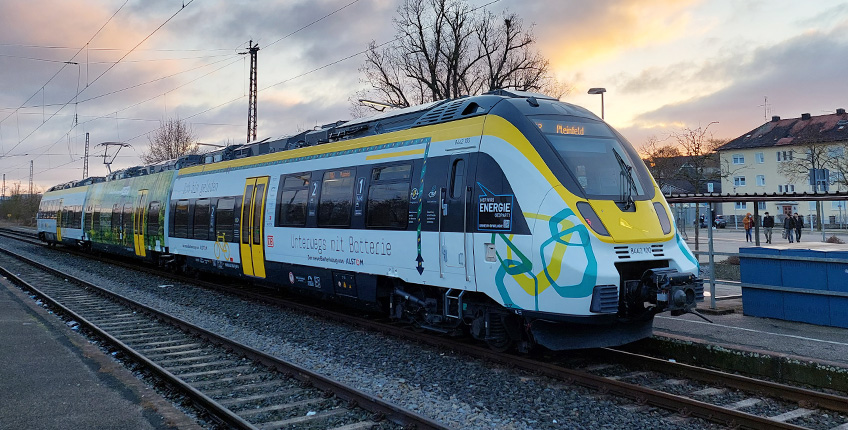 The Heidekrautbahn railway line to be equipped with hydrogen trains
The states of Berlin and Brandenburg and the Niederbarnimer Eisenbahn (NEB – Niederbarnim Railway Company) have concluded negotiations on the research contract for the Heidekrautbahn. Particularly noteworthy: For the first time, hydrogen-powered trains will be used in the region around the German capital city.
Catalogue of measures
The NOW Advisory Board Chairman outlines the hydrogen and fuel cell industry's wishes for the further development of the National Innovation Programme Hydrogen and Fuel Cell Technology (NIP) to the National Hydrogen Council.