Buses – always admirable how these lengthy beasts get around tight curves. And now they must tackle the mobility transition. Public transport companies are converting their fleets to electric. Pilot projects have verified the feasibility; different drive technologies are available. The municipalities and companies can use the networks coordinated by NOW GmbH to exchange information and ideas.
Nitrogen dioxide and carbon dioxide emissions, noise, particulate matter – the energy transition in transport also poses challenges for local public transport, whether road or rail. Some public transport companies are equipping themselves for the future and are now undertaking the conversion of their fleets to vehicles with alternative drives. Batteries and fuel cells are the focus, the advantages of which can be demonstrated when electricity or hydrogen is used from renewable energies.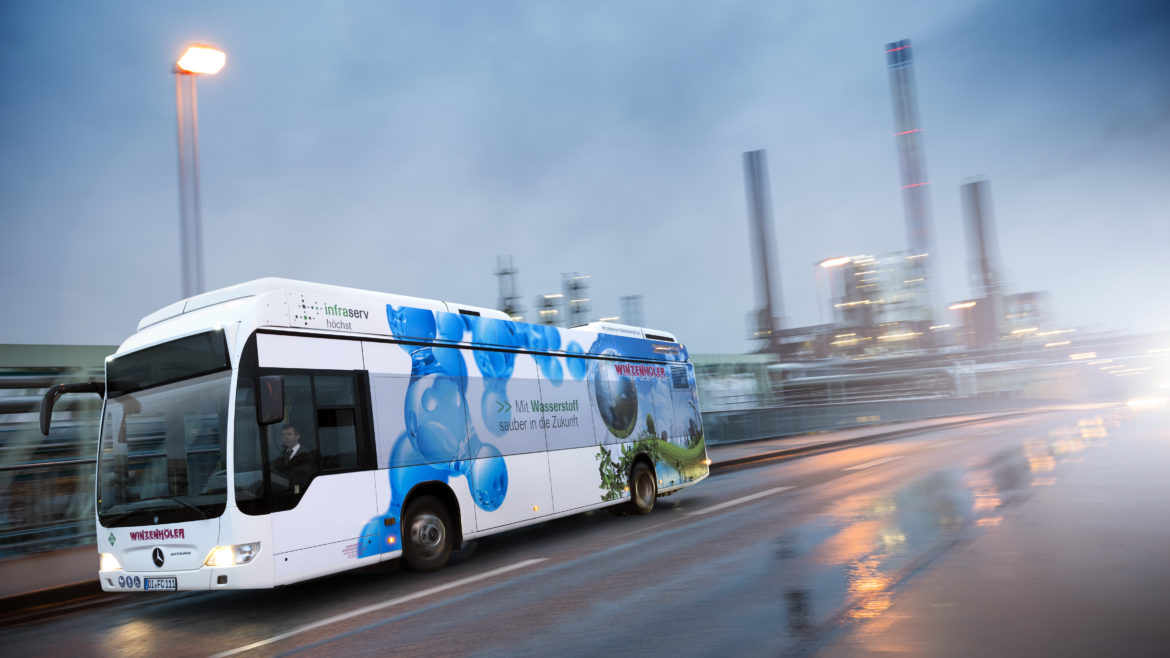 City Buses: A Question of Drive
Public buses cover distances of between 200 and 400 km per day. In the process they brake and accelerate much more often than trucks. With a scheduled service life of twelve years and 750,000 kilometres driven, the vehicles must be robust and at the same time as comfortable as possible. Over ten million test kilometres from pilot projects show that it is technically possible to operate the majority of public buses electrically by the year 2030. There are currently a variety of drive technologies available for operation.
Battery Buses
A guaranteed range of 200 km is enough for many bus operators for the first conversion of entire routes to battery buses. The first available vehicles on the market cover these daily distances. This enables uninterrupted driving operation, with recharging taking place at night at the depot. Charging is also possible during operation. Here the bus charges via inductive or conductive fast-charging at bus stops or turn-backs or through a partial overhead line. The required battery capacity and the downtime are thus considerably reduced.
Fuel Cell Buses
For longer routes, hydrogen-operated buses are a good alternative to batteries. In around ten minutes, the buses refuel enough hydrogen for 300-400 kilometres of driving. Fuel cell buses thus bring a flexibility which is comparable to a diesel bus and can be easily integrated in the operational procedures of transport companies. Alternatively a battery bus can be equipped with a fuel cell as a range extender. Here both drive technologies complement one another: a battery provides energy for the drive, absorbs this when braking and is recharged during breaks or at the depot. During the journey the battery is recharged by a smaller fuel cell.