Contact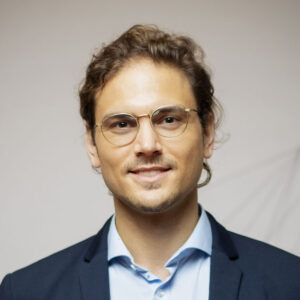 HyTrA stands for Hydrogen Tryout Area and refers to a hydrogen biotope centred around a microgrid for the production of green hydrogen.
More specifically, this HyGrid is a robust and cost-effective microgrid designed specifically for the African market, combining an electrolyser for hydrogen production and fuel cells for reverse power generation.
Electricity is generated by an existing on-site PV and wind farm. The project will test the integration and operation of this novel self-sufficient energy supply system under the climatic conditions in South Africa. The aim is to promote the establishment of the hydrogen technology and its use in the form of decentralized island grids as a basis for securing a reliable CO2-neutral power supply in South Africa.
Furthermore, the hydrogen biotope consists of a technology showcase (HyWindow) as a virtual reference grid. It provides an insight into the technological functioning and benefits of the physical demonstrator via a digital image and enables remote control of the microgrid.
Furthermore, a socio-economic and -ecological framework is integrated into HyTrA, the so-called HyFrame, through which accompanying activities and services for information and further education are intended to raise awareness of environmental aspects and fundamentally contribute to the acceptance of hydrogen as a climate-neutral energy supplier.
Based on concrete problems, such as the self-sufficient energy supply or the energy security of industrial companies, microgrids are to be designed as mobile and cost-effective hydrogen-powered energy sources. For this purpose, local requirements as well as potential fields of application are to be determined. At the same time, interest is to be aroused among local companies to take over parts of the component production, assembly or installation and thus form collaborative value chains. This will enable marketing and economically sustainable implementation in both countries.
The HyTrA project is carried out by the partners Fraunhofer IWU Chemnitz and Texulting GmbH as well as a number of German and South African associated partners. Interdisciplinary and international cooperation will ensure that the project goals are achieved. The project results will make an important contribution to the sustainability goals formulated by the UN. The European Union has committed itself to the goal of zero greenhouse gas emissions by 2050. The necessary basis for this is the decoupling of economic growth from resource consumption. These goals can be achieved through innovation and cross-company value creation. At the same time, this will secure fair prosperity and increase the quality of life.
Funding Code
16EXI5556A
| | | | |
| --- | --- | --- | --- |
| Partner | Start of term | End of term | Funding amount |
| Fraunhofer IWU  | 01.12.2021 | 30.11.2023 | 551,144.00 € |
| Texulting GmbH  | 01.12.2021 | 30.11.2023 | 195,705.00 € |
| | | | 746,849.00 € |