The development of innovative technologies is a key driver for global environmental and climate protection. However, developed technologies also need to be applied. As an exporting country, Germany and its strong SME sector also seek to identify and seize global market opportunities that can be transformed into implementation projects, – in close collaboration with local partners . In this context, NOW GmbH supports the establishment of international networks and the implementation of international demonstration projects.
As part of the programme Export Initiative Environmental Protection (EXI) and in order to increase market opportunities for green tech companies, developers and suppliers, NOW GmbH illustrates the diversity of possible use cases of green hydrogen and fuel cell technologies to potential users by creating lighthouse projects.
H2 as a global opportunity
As of 2021, NOW GmbH as an implementation partner of the programme Export Initiative Environmental Protection of the Federal Ministry for the Environment, Nature Conservation, Nuclear Safety and Consumer Protection (BMUV), is responsible for the technical focus of hydrogen and fuel cell technologies for distributed and off-grid power supply.  Being associated partner in this programme, NOW GmbH promotes international market opportunities for German green tech SMEs, with the aim of creating a positive contribution to the implementation of the Sustainable Development Goals (SDGs).
The initiative aims to support activities of small and medium-sized technology companies as well as research institutions investigating in the field of hydrogen and fuel cell technologies, both with registered offices in Germany. Companies and institutions are supported in taking the first step into a new market, as well as in developing and implementing projects in the field of hydrogen and fuel cell technologies for local use. The programme focuses on applications with significant environmental impact, (local) value creation and strong replication potential. The funded lighthouse projects will be integrated into the activities of NOW GmbH, resulting in the following synergies:
Demonstration of the advantages of hydrogen and/or fuel cell technologies in innovative fields of application
Local as well as international network building
Effective transfer of generated knowledge
Lighthouses
The spectrum of possible applications of hydrogen and fuel cell systems for distributed power supply is extremely broad. The strengths of hydrogen and fuel cell technologies can be demonstrated in a variety of possible uses cases:
From powering a mobile telecommunication system in rural areas, to providing secure and uninterrupted power to critical infrastructures, or the application in a mini-grid for a remote hotel facility. Hydrogen and fuel cell technologies make a valuable contribution – in an environmentally friendly and sustainable way.
The lighthouse projects that are implemented as part of the focus on hydrogen and fuel cell technologies within the Export Initiative Environmental Protection reflect the broad range of this spectrum.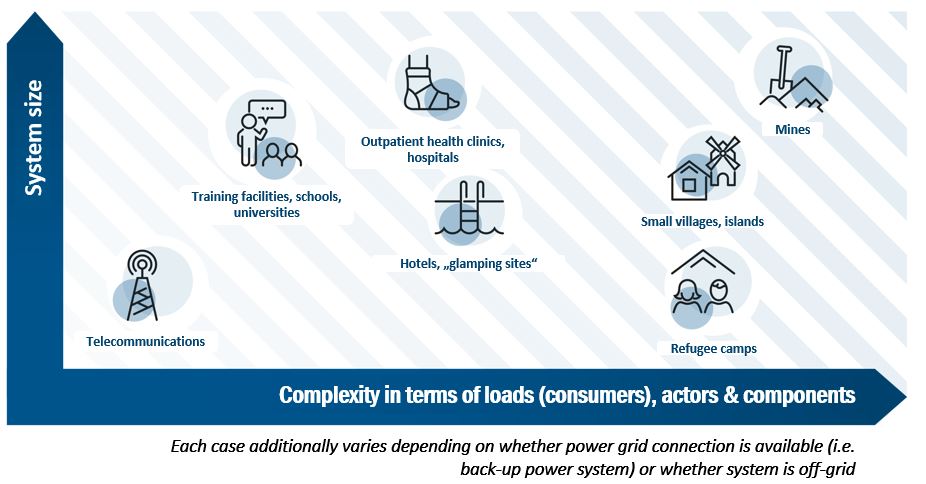 Holistic support
NOW GmbH supports applicants from the initial project idea through implementation until the last steps of the project cycle – together with its strong partners DIHK Service GmbH and the Deutsche Gesellschaft für Internationale Zusammenarbeit GmbH (GIZ) as well as the project management organisation ZUG gGmbH. NOW GmbH provides market and technology information that highlights and creates access to global demand and opportunities within the  spectrum while setting a foundation for participation in the programme via various formats, such as technical guides, events and training courses. Moreover, a strong network of national and international stakeholders as well as expert advice and support provided by NOW GmbH from the beginning to the final milestone set the frame for successful projects.
Furthermore, NOW GmbH also supports the projects through comprehensive public relations activities. In order to strengthen the sustainable approach of development, NOW GmbH also ensures the cross-project knowledge gain.
Feel free to contact us at any time with questions regarding the funding or initial project ideas that you would like to implement within the framework of the programme.
Technology providers, project developers and research institutions interested in participating in the programme can find out more about the programme outline here (information in German).